Green Party Co-Leader challenges Lewisham Council to "lead by example" ahead of crucial by-election
4 October 2016
Jonathan Bartley, co-Leader of the Green Party, says Lewisham Council must tackle "excessive executive pay" if it truly believes cutbacks in spending are necessary.
Bartley was speaking after meeting residents in Brockley along with Clare Phipps, the Green candidate in the area's upcoming by-election. The council's budget for 2017 will start being debated soon but last year's report shows that the borough spent £2.5m on executive salaries whilst taking out £100m from public spending.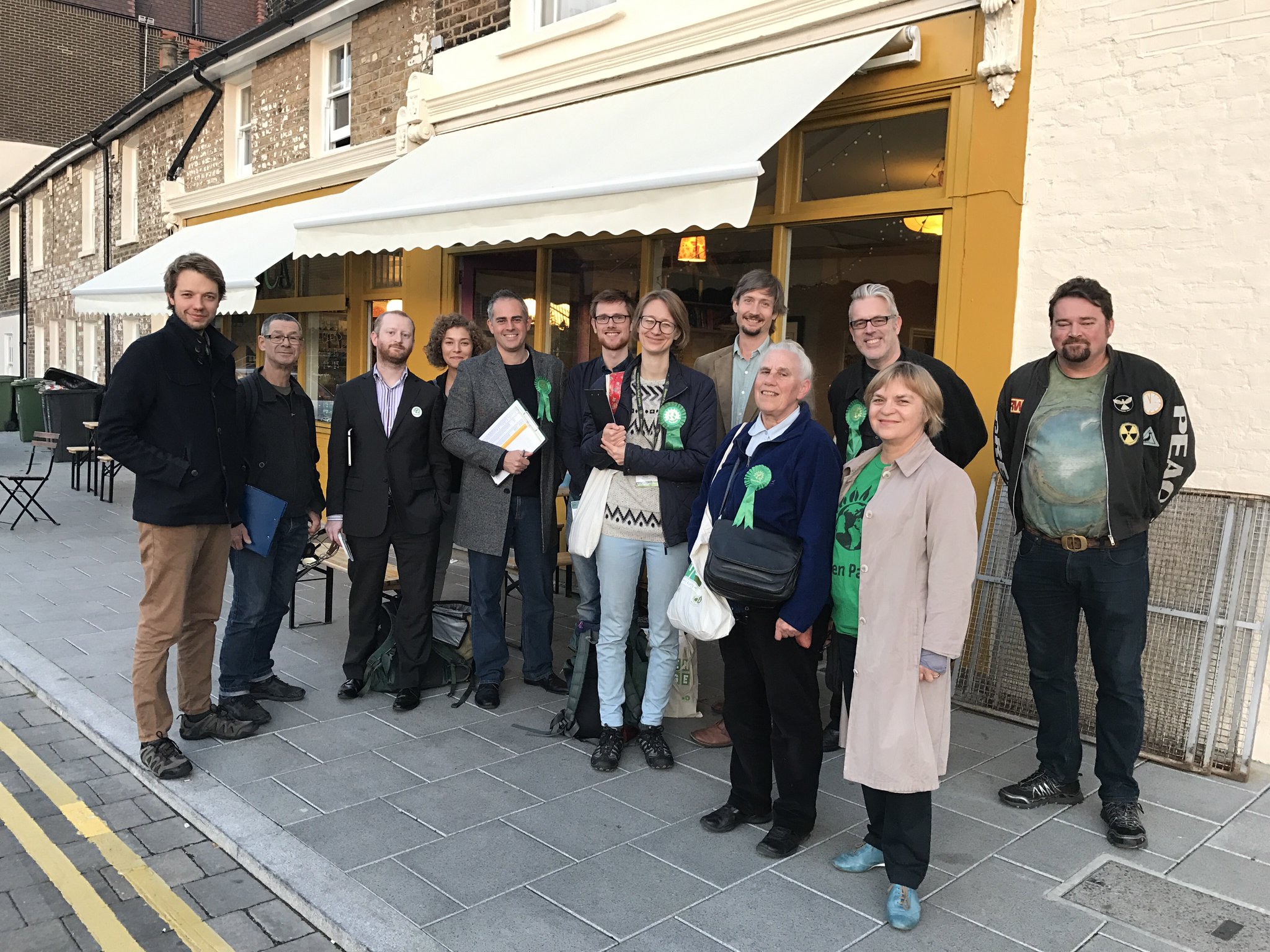 Green Party Leader Jonathan Bartley, 5th from left, Brockley candidate Clare Phipps, 6th from right, and local Green activists campaigning in Brockley
Bartley, who was elected Co-Leader of the Greens this summer and who is a carer for his son, said:
"It's clear from speaking to local people today in Brockley that many of them feel let down and abandoned by their council. I've seen council flats with unlit stairwells because no one has been round to fix a broken bulb. I've seen the piles of rubbish left on people's street corners that the council has not been round to collect. And I've heard from residents who need social care support but find themselves struggling alone as a result of the cutback in services.
"It's not enough for the council to say there's no money available when it's paying it's executives such excessive salaries. As a carer myself I know the unbelievable difficulties that many people in need of care and support are going through and I can tell you that it makes no better to know that money that could be spent helping your loved one is lining the pockets of a small number of staff.
"It's this kind of neglect that I am used to seeing in my own borough of Lambeth. We have a very similar situation to Lewisham, as nearly every council seat in Lambeth is held by Labour. When one party has such a huge majority, they are under no pressure to stick to their principles and work for their residents.
"In Lambeth, it is also up to the Greens to hold Labour to account. The opportunity Brockley residents have to double the number of elected Greens in the borough is an exciting one. Having worked with Clare in her role as Chair of the national Green Party, I can guarantee the people of Brockley that if they elect her they will be choosing a councillor committed to protecting public interests, standing up for vital services, and listening to the needs of residents."
Clare Phipps said:

"As someone with a disability myself I've witnessed first hand the appalling impact of the council's cuts in social care. Not only has it left me without any help, it's also given me the clear feeling that I am not a priority or a concern for our council. I
"That's why today we are setting down a challenge to Lewisham Council. We want them to commit to reviewing executive pay levels and reduce them and those of the Mayor before introducing any further cuts to public services, libraries, and social care.
"A council is supposed to represent its local people but by cutting funding for residents while maintaining sky-high salaries it's clear that's a fallacy in Lewisham. We need a council that listens to local people. We need a change in priorities. Please vote for me on 13th October and I commit to doing everything I can, along with my Green Party colleague and friend Councillor John Coughlin to stand up to vested interests and put the needs of Brockley residents first."
The Brockley by-election takes place on 13th October. It was called following the resignation of Labour councillor Alicia Kennedy.